We Are Handsome is an all Australian high end fashion label specialising in tight-fitting swimwear and active wear in striking graphic prints. The chic fashion brand was created by an Australian couple in 2009 and since then they have gained a strong cult following and have become relatively well known for their whimsical, eye-catching designs. What's more is they are 100% Australian made, they are both designed and sewn in Australia.
We Are Handsome is an esteemed fashion brand and has very high quality products made of the best swimwear materials. Therefore its swimwear is at the pricier end of things with its swimsuits costing somewhere in the range of $70 – $300. We Are Handsome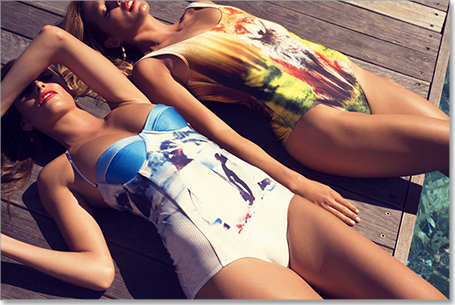 creates multiple collections in a year, each with their own distinct theme. For example in 2014 they created a collection called 'Euphoria' which was tropical and tribal inspired, followed by the 'Chroma' collection which was entirely black and white, very out of the ordinary for We Are Handsome. One of their most famous collections was called 'The Tropic Of Babylon' which featured a black one-piece swimsuit with a puma on the front, this puma swimsuit was seen worn by Rihanna and Diane Kruger.
We Are Handsome Bikinis
We Are Handsome bikinis all feature fantastic prints and come in a whole variety of different swimsuit cuts. At We Are Handsome you can only buy bikinis as matching sets, so you'll have to buy more than one bikini if you want to mix and match them. The types of bikini styles they have include:
Bra Bikini: triangle top with adjustable bra straps. The under-bust has a contrasting band that stands out from the rest of the print.
High Waisted Bikini: this style has high-waist briefs and a balconette bikini top with soft cups and a light amount of padding.
String Bikini: the briefs have string tie sides and the top ties as a halter behind the neck and at the back. The triangle cups slide along the string.
Isosceles High Neck Bikini: these have a racer back, with a zip down the front and a high neck top. This bikini has an athletic look.
Racer Bikini: looks like an athletic crop from the front and has a racer back. It's a snug fit with no additional padding.
Gathered Bikini: this has a bandeau top with a V-neck at the front that is gathered around the 'v'. It has underwire, soft mouldable cups, a fixed clasp back, detachable straps and side boning.
Soft Cup Bikini: it has a balconette shape with underwire and soft cups and a tie string halter top with a fixed clasp back. It comes with classic briefs that provide medium coverage.
Cupped Corset: this bikini top offers excellent support with boning, underwire and shaped cups.
Tie Front Bikini: this ties at the front of the bust and behind the neck. It has triangles for the cups and has a wider bust strap than most.
Butterfly Bikini: a bandeau top with tie string straps and is gathered at the front.
Halter Bikini: this is a bandeau top with the halter ties coming from the front-centre of the top. It is paired with a tie-side bikini bottom.
Graphic Design One-Pieces
We Are Handsome one-piece swimsuits are outstanding because you can see more of their impressive prints. Each of its prints are usually made into two or three different style one-piece swimsuits. Its one-pieces come in the following cuts:
Scoop One Piece: this has a deep scoop back and a medium leg arch.
Lattice One Piece: this has a triple string back in a lattice formation covering the deep-V cut back.
Panel One Piece: has soft cups to add seamless shape to the bust. The straps are detachable. It has panels for a tailored fit down the body of the swimsuit.
Zipsuit: has a zipper that goes ¾ way down the front and a high scoop back.
Racer One Piece: with a high neck top and a racer back.
Deep Plunge One Piece: this has V neckline at the front and a very low back with convertible back straps.
Bandeau One Piece: this has a cupped hole at the front with strings that can be tied behind the neck or at the front.
Halter One Piece: this has triangle cups and is gathered around the bust. It has low back with two tie strings.
Body Suit: this is swimwear but is made out of such a nice fabric it can be worn as a clothing body suit as well. It has caped sleeves, a classic scooped neckline and mid-scoop back.
Frill One Piece: this is a backless one piece with delicate convertible straps. It has a straight neckline with frill detailing.
We Are Handsome Children's Swimwear
We Are Handsome uses the same magnificent graphic prints for their kids range, but they have a limited amount of different designs. There is a girls one-piece, trunks, and rashies in a couple of different prints. If it's not out of your budget, your child will look incredibly stylish in We Are Handsome.
We Are Handsome Clothing
We Are Handsome clothing has the exact same flavour as its swimwear. They use their same exclusive prints used in their swimwear collections for their apparel. All its active wear is made of polyester and elastane so it is stretchy and hugs the body closely. Its gym gear apparel includes; bralettes, T-back sports bras, sports bra crop tops and leggings and sports pants of varying lengths. We Are Handsome bodysuits and leggings are incredibly popular.
It also has a collection of clothing called 'Coverups' which are relaxed style poolside clothing designed to be thrown over a swimsuit. Clothing in the Coverup range include shift dresses, long button-up shirtdresses, wrap around shorts and silk dresses and shirts.
Purchasing We Are Handsome Goods Online
We Are Handsome accepts AUD and delivers Australia wide for a flat rate of $5. They only post on Mondays and Thursdays but use Express Post so your package will be delivered within 1 – 2 business days. You are allowed to make refunds or exchanges but this must be done within seven days of the delivery date.