There is a real art to picking the bikini that is just perfect for you. Different styles of bikinis are designed to fit different builds and shapes. There is a bikini that is just right for every body type, here's how to find the dream bikini for you.
The Best Bikini If You Have A Small Bust…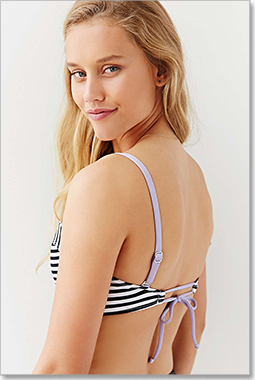 The traditional triangle string style bikini tends to make a small bust look flatter. Instead you should opt for bandeaus with adjustable backs as they help group your bust together so it appears larger. Balconette bikinis with cups are another good option as they give you support and lift no matter what your cup size. The bralette bikini is another kind of bikini that is comfortable and much better suited to a smaller bust.
Bikinis styles that suit bigger busts
If you have a bigger bust you may find that you need more support than most bikinis offer. Look for bikini designs that have bra features for instance wiring, inbuilt cups, boning for shape and support and adjustable straps. We recommend halter bikinis as they tie behind the neck which works as a good support and halter bikinis usually have cups or a thick bandeau structure. Bustier Bra bikinis are specifically designed for bustier women, they have underwire soft cups so they're supportive without being uncomfortable and have adjustable shoulder straps just like a bra does.
If You Have A Bigger Bust With A Smaller Band Size
Buying a Bikini when you have a larger bust and a small under-bust, for instance if you're a 32DD can be difficult. The trick to find a bra that will fit you right is opting for a bikini that has boning and support, but also has a back that ties at the back rather than a fixed clasp. This will ensure you can adjust the tightness around the ribcage so it fits you without having to compromise for cups that are too small. We suggest the 'Cambria Bustier Bikini Top' by Seea.
Use High Waisted Bikini Bottoms To Give You Shape
Whether you have a 'column' type figure where you don't really have curves, or if you've got a pear shaped figure and want a little coverage for your tummy but still want to wear a bikini, high-waist bikini bottoms are an excellent choice. Tight, high waisted bottoms that hug in at the waist help give the appearance of nice curves, whilst smoothing out any bumpy bits that you might want to hide. Patterned high waist bottoms help draw attention to the waist making it appear larger if you want more of an hourglass shape. Alternatively high waist bottoms in a block colour like black, or ruched bottoms that have a bit of texture will help draw attention away from a tummy you may want to hide.
How To Pick The Right Bikini Bottoms For You
Finding the right bikini bottoms is an easier task than finding a bikini top that fits you just right. Our advice is simply to find a cut that you're comfortable wearing. General types of bikini bottoms include; Brazilian-cut bikini brief, slim bikinis, medium coverage briefs, boyleg bottoms, string-tie bottoms and high-waist bottoms.