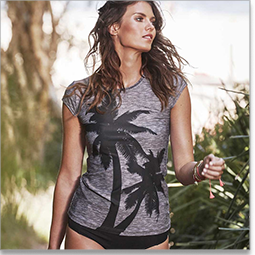 You may remember wearing a rash vest, or 'rashie' as a child, yes they protected you from getting sunburnt but they weren't necessarily very comfortable and they didn't look great. Cheap rashies are generally loose fitting and made of thin material that stretches out of shape easily, and they are made for their sun protective qualities so they usually aren't the most fashionable pieces of swimwear. However it looks like this has all changed.
We are now seeing fashion's take on the rash vest with rashies in pretty prints, cropped, tight fitting rash vests and beautiful long sleeved rash guard tops. These new rash vest inspired swimmers are designed to be worn as the swimsuits themselves rather than thrown over the top of a swimsuit like the traditional rash vest. We have identified some of the fashionable rash vest trends you can expect to see more of, and found out where you can get your own flattering rashie.
Cutest Crop Rashies
This cut of swimwear is a relatively new trend. Crop rashies can have short sleeves or long sleeves but they are always cropped beneath the bust area leaving the tummy exposed. They obviously show more skin than the standard style of rash vests, so they are less sun safe but they are a fashionable comprise between the bikini and the rashie. Crop rashies in general are edgier and more fashion forward, so if you favour a bolder fashion sense this could be the ideal swimsuit cut for you. Here are some of the newest and most outstanding crop rashies out there:
'Stars All Over Cropped Longsleeve Cover Up In Pirate Black' by Zoe Karssen
This is a tight fit crop rashie so we wouldn't recommend wearing swimmers under it. It is made of a tight and stretchy fabric that is 79% polyamide and 21% elastane. This top is sold on its own and we think it would look great paired with black, white or block colour bottoms.
'Zingara Wetshirt' by Billabong
This is a multi-print long sleeve crop rashie with high neck cut. It can be purchased online via the Billabong site but is also stocked in land-based surf stores too for $59.99 AUD.
'Black Cutout Rashie' by Suboo
The cut-outs on this rashie top mean that it isn't the most sun safe choice but it is very chic and is a sturdy design. It is made out of wetsuit material so it can withstand a good deal or wear and tear, and it has a thick black wetsuit style zipper to match its surfer theme.
'The Farrago Cropped Rashie Set' by We Are Handsome
This crop rashie from We Are Handsome is sold in a set only, so it is paired with a European cut of high briefs in the matching print. We Are Handsome is famous for its incredible graphic prints, and it has a number of other stunning rashies in mesmerising prints. All We Are Handsome products are made in Australia.
Gorgeous Long Sleeve Rashie Tops
Long sleeved rash vests obviously offer the best sun protection. If you do prefer wearing another swimsuit top underneath your rash vest we recommend choosing a long sleeve rashie as these are generally a looser fit than short sleeved rash vests and crop rashie tops. It is now in fashion to have a zipper down the front of a rash vest, so it's sort of a mix between a rash vest and a surfer's wetsuit. If you find the front zipper uncomfortable there are also long sleeve rashies without them that have great graphic prints on them instead. These are our top long sleeve rashie picks:
'Surf Trip' by Billabong
This rashie does have a surfer vibe as its name suggests with a wetsuit style zipper down the front. It's made of quite a thick fabric, but is nowhere near as thick as an actual wetsuit. We love the contrast tribal print sleeves. It is a fairly loose fit if you wanted to wear swimmers underneath.
'Zip Through Rash Vest In Blue And Purple' by O'Neill
This rashie is also wetsuit surfer inspired with a thick, but less visible, zip down the centre front. This rashie has a light feel and is made up of 80% nylon and 20% elastane. It also provides UVA and UVB sun protection.
'Cara Top In Denim' by Beth Richards
This is an edgier rash vest that looks very different to the standard, traditional rash vest. It has a denim print body with fishnet sleeves, all of which are designed to be worn in the water. Its fabric is resistant to oils, lotions, sweat and chlorine and it provides SPF 50+ sun protection (for the bodice, not the sleeves). It has a comfy turtle neck and is a snug fit.
'Rainforest to Reef' by Bombshell Bay Swimwear
We love this rashie for its vibrant tropical print. It has UV50+ protection from the sun and is designed to withstand extensive salt water and chlorine use. You could match this rash guard top with any brightly coloured brief bottoms.
Stylish sun protective vests
Sun protective vests or short sleeve rashies give you a little more mobility if you find that longer sleeves get in the way, but still offer a decent amount of protection from the sun. These are some of our favourite short sleeve rash vests:
'Swim Tee Palm Tree' by The Aqua Brand
This is made of a very breathable, light material that dries quickly. It's designed to be worn in the water but it looks like a normal T-shirt out of the water. It is a relaxed fit around the waist and hips with a capped sleeve. It has SPF 50+ protection and is chlorine resistant.
'Poolside Sunvest' by Seafolly
This rashie has a tank top shape with no sleeves and longer fit. It has a zip-up back with a leaf trim on the zipper. It is made of nylon and elastane and is light and stretchy. It has a lovely, colourful, beachy print.
'Field Trip Scuba Cap Sleeve Sunvest' by Seafolly
This rash vest has boning and structuring so it's perfect if you prefer swimwear that helps give you shape. It is made of a thicker, scuba type material but it is still very comfortable. It has a zipper all the way down the front and has SPF protection. Plus it has a beautiful floral summery print.
'Isla Wetshirt' by Billabong
This rash vest shirt is very comfortable, it's a relaxed loose fit if you don't want swimwear that hugs the body too closely. It has an O ring pull zipper that comes down to the chest area so there is plenty of space around the neck.
How Can I Get My Own Fashionable Rashie?
We selected the best rashies we could find that can be purchased online with AUD and each of these retailers delivers Australia wide. All of the merchants we have outlined have secure payment methods and accept Australian dollars so you can make safe and hassle-free transactions over the Web. They also all deliver to Australian addresses but most have additional shipping costs. For each you can expect your order to arrive in just a few business days.