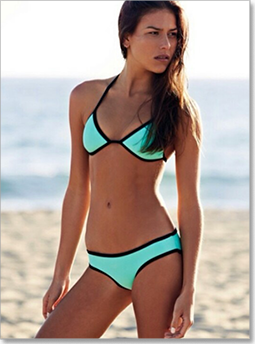 The Triangl brand doesn't have any land-based stores you can visit but they have come to be a very popular brand of bikinis in a very short amount of time. The brand was only founded in 2012 by an Australian couple and since then Triangl's Instagram account has gained over 2 million followers and now has a celebrity fan base including the likes of Miley Cyrus, Kendall Jenner and Lucy Hale. Triangl's swimwear style is simplistic, colourful and bold. Its bikinis fit the body beautifully and are relatively durable so they should last you all summer long.
Triangl Bikini Styles
Triangl bikinis can only be bought in sets, so even though the bottoms may be a different colour to the top they're designed to loo good together. Every different design of Triangl's swimwear comes in three to six different colour patterns, for instance if you like the Bambi design you can order a Bambi bikini in; Candy Sunset (neon orange with a white strip on the top and neon coral bottoms), Bubble Mint (neon pink with white mesh on the top and neon mint bottoms), or Sugar Plum (mint with an orange strip on the top and neon purple bottoms). There are different colour sets for every design so a wide variety of bright and vibrant colours are used. There are also bikinis that are all the same colour if bikinis that are obviously matching are more your style.
Here is Triangl's entire list of bikini designs with our recommendations for which body types each design would fit best:
Black Neon: these tops come in neon yellow, neon pink or neon orange. Each have a mesh covering and plain black bottoms. They are tight fitting and fit the breast closely like a bra would. The shoulder straps are adjustable but the back clasp is fixed so be sure to pick the correct ribcage size.
Lulu: The Lulu bikini has multi-coloured tops and three different coloured tie-string bottoms. The top is a halter bikini that ties behind the neck and the back is also tied so this is a fully adjustable bikini top. It has a classic triangle bikini shape with inbuilt cups.
Lily: the tops and bottoms on Lily have multiple block colour sections. This is a structured bandeau swimsuit with no straps and a fixed back clasp. It has a boned structure, which is great support if you have a bigger bust. Also, the zipper at the front of the bandeau actually works.
Winnie: this has the same design as the Lily bikini except there is a mesh covering over the top, but this is purely an aesthetic difference.
Poppy: this top is structured like a balconette bra with visible structuring. The tops and bottoms are multi-coloured but for Poppy the same colours are used for both. It has a fixed clasp back but you can adjust the shoulder straps.
Milly: this has the same design as Poppy but each of the Milly designs have the one same block colour for top and bottoms (each with black outlining).
Chloe: this is one of Triangl's most classic style bikinis. The top is close fitting and has a triangle shape with adjustable neck and back string ties and fixed cups on the chest. The Chloe bottoms have more coverage on the back than most of their other designs and are slightly boyleg. Chloe bikinis are the same one colour on the top and bottom and have a black outline.
How To Get Your Own Triangl Bikini
You can only buy Triangl bikinis online and directly from them, Triangl doesn't sell their bikinis to online merchants so there's no middleman. Ordering your Triangl bikini is quite a straightforward process.
Once you have selected the style and colour pattern you want you will then need to select the top size and bottom size you want. You have to buy your Triangl bikini as a set but you can have different sizes for the top and bottom if you wish, so you can get the perfect size for your body. On this page you will also be shown the cost of your bikini in AUD (provided that you are on the Australian page of Triangl). Add your bikini with your specified sizes to your bag and you'll be ready to complete the purchase. Note that there is a flat shipping rate of $10 for anywhere in Australia. Once you have paid up you can expect your bikini within three to seven business days. Triangl accepts the following payment options; PayPal, Visa, MasterCard, Discover cards and American Express.
Triangl Customer Care
Since there is no land-based store where you can try on clothes, take back clothes, or express your concerns this brand pays a lot of attention to providing quality customer care online. You can reach Triangl via email or through the live chat feature on their site.
Triangl let's you refund any swimmers that are faulty and you can also return or exchange swimsuits if you simply change your mind (provided you return items in their original condition with all tags in place). Also note that although you can be fully refunded for the goods you won't be reimbursed for any of the shipping costs, and all returns must be sent to their returns warehouse, which is based in Hong Kong.