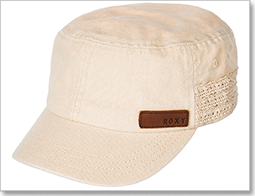 A stylish sunhat is the best way to be sun safe and look good at the same time. Your choice of hat should provide you with a decent amount of shade, be made of a material that provides some coverage from the sun and should look good.
We've gathered types of hats you'd be happy to wear at the beach, at the shops or at a summer party. We have found a diverse range of hats and there should be something to suit everybody, no matter what kind of fashion style you prefer. We have found out the hat trends you should be on the lookout for, where you can find them and how to wear them.
Beautiful Hats For Women
These are some of the women's styles of hats we love best. The team at online swimwear will update this page as the fashion trends change and the new lines are brought out.
Wide Straw Hat
Straw hats with a wide brim provide optimal protection for the sun. We love this straw hat called 'Oversize Tribal Hat' from Witchery. It's a beautiful statement piece.
Fabric Cap
These are not like snap-back caps. These are made solely of fabric so they're comfy and fit closely to the head. Fabric caps are also pretty durable so you don't need to worry about them getting wrecked at the beach.
Retro Bucket Hat
The cute bucket hats you wore as a kid are making a comeback; retro bucket hats are now very much in fashion. In a practical sense bucket hats are excellent because they provide sun protection without getting in your line of vision and they don't need a lot of looking after. Bucket hats are built for wear and tear.
Cute Upturn Hat
Upturn hats have a little glamour to them, but they generally have a shorter brim so they're not too big and obtuse. We like the Kooringal brand for upturn hats because they are made of a sturdy fabric and they're pretty.
Panama Hat
Panama hats have a fedora shape and are made with straw. They mightn't provide a whole lot of protection from the sun but they do the job provided you're not in the sun too long. We love the polka dot touch on this Roxy hat.
Baseball Cap
Plain old school baseball caps are no longer daggy, many fashion stores are now selling simple baseball caps. They provide great coverage against the sun for your face and very easy to throw on with a casual outfit.
Felt Floppy Hat
Felt floppy hats are very pretty but they require some taking care of as they are quite delicate.
Best Men's Hats
These are the best styles of hats for men and where you can find them.
Felt and Leather Wide Brim Hats
These are fancier style hats that have distinguished look. This style suits a dressier outfit or casual beachwear but you need to take care of them if worn at the beach because leather and felt can damage easily.
Bucket Hats
Bucket Hats are making a comeback in menswear too. This is a popular bucket hat style from Vans, but Stussy and Obey have nice bucket style hats as well. They are usually made from thick cotton which is perfect for the beach as it's durable and breathes.
Submersible Sunhat
These types of hats are very durable as they are designed so they can get totally wet without being ruined. This design from Billabong is made of submersible fabric and has an adjustable toggle.