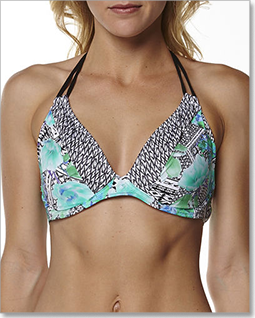 JETS is an all Australian high-end fashion brand of swimwear created by designer Jessika Allen. Allen graduated from UTS with a degree in Fashion Design and Textiles and went on to create the JETS swimwear brand, designing elegant and chic swimsuits and poolside wear for women, men and children. JETS is a luxurious brand so pieces aren't cheap but you get what you pay for, all JETS swimsuits are designed to be timeless and are made of high quality fabrics so they will last and all JETS products are 100% Australian made. JETS also sells fashionable and relaxed clothing that would look beautiful for the beachside or poolside.
JETS Women's Swimsuits
JETS aims to create tailored, couture swimsuits that flatter the female form. JETS by Jessica Allen has bikinis that are sold in set, bikini bottoms and tops that can be bought separately, tankinis, one piece swimsuits and rashies. There are hundreds of different types of swimsuits sold on their site. The JETS swimsuits come in a wide variety of styles to suit almost all fashion tastes for example you can get one piece swimsuits that provide a lot of coverage or that have large and showy cut-outs. They also don't shy away from the use of colour, swimmers come in a range of bold black colours, black and white, and bright and colourful prints. If you're buying online you can filter your search by colour to help you easily find the look you're looking for.
The more expensive line of JETS swimmers is called 'JETS White Label'. These are always luxe, top of the range swimsuits often with complex cut-out designs and a mix of different types of fabrics. White Label swimmers are usually twice as expensive as the rest of the JETS range.
Men's Swimwear
There are noticeable fewer men's swimsuits than women's. Men's JETS swimmers are either traditional speedos in tasteful prints and colours and short boyleg swimming trunks in trendy prints and more conservative colours like black and navy.
JETS Swimmers For Kids
JETS has a cutesy selection of girls swimmers called the 'JETS Pink Kids' collection, which is available in sizes 2 – 7. There is plenty of pink, polka dots and frills in this collection. Some swimmers even have submersible tutus! They also sell adorable mini kaftans for your little tots to throw over their swimmers.
If you have girls who are a little older, check out the 'JETS Blue Tweens' collection which is designed for sizes 8 – 14. This collection has bikinis, full pieces, rashies, short boardies, playsuits, sundresses and kaftans. This collection only has swimmers for girls, and has plenty of oranges, pinks and yellows.
Fashionable JETS Clothing
JETS has lovely relaxed style clothes that are both comfortable and glamorous. It has shorter shift dresses, spaghetti strap dresses, maxi dresses, tunic dresses, extravagant kaftans, stylish print slouch pants, floral and print playsuits, sarongs in virtually every colour, maxi skirts, graphic print high neck singlets, shirt dresses and print tops.
JETS Accessories
JETS has everything from sarong rings (which help you turn your sarong into a dress) to visors. They have a great range of stand-out totes and clutches that would work well as statement pieces, JETS bags don't shy away from bold prints and bright colours. They also have JETS printed towels that are thick, lush and very large in size – everything you could want in a beach towel.
How Do I Buy JETS Online?
If you want to try on any JETS products before you buy them you can find the nearest actual store that sells JETS swimmers with the 'Find Your Retailer' function which can be found in the bottom right hand corner of the jets.com.au site.
Alternatively you can buy the JETS products you want online and have them delivered to your home. JETS ships to Australia, New Zealand, Hong Kong and Singapore. If you are based in Australia there is a $10 shipping fee and if you spend over $200 then express shipping is free. If you are internationally based shipping costs $20. You can exchange or refund if goods are faulty or if you simply change your mind provided goods are kept in their original condition with the tags kept on.