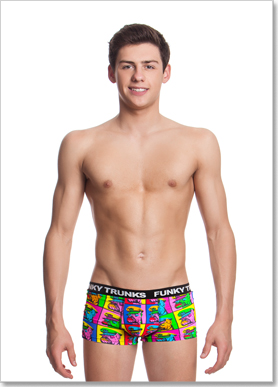 Funky Trunks deals solely with the men's side of swimwear, catering for men, boys and toddlers. It is an Australian brand with its design house based in Melbourne and they deliver Australia wide and internationally. Funky Trunks has a very distinct design style, they certainly don't shy away from bright colours and mesmerising patterns.
Generally for each of their collections they only have a couple of different cuts but there is a lot of variety in the colours and patterns they use. Funky Trunks are perfect if you want eye-catching, attention grabbing swimmers that stand out in a crowd. So if you're male and want statement swimwear, Funky Trunks could be just what you need.
What's so great about Funky Trunks swimwear?
Funky Trunks swimwear is unique in every way, not just aesthetically. It is made from C-Infinity polyester fabric, which is exclusively used for Funky Trunks products and Funkita swimwear (this is Funky Trunks' sister company). C-Infinity Polyester is designed to withstand frequent beach and chlorine pool visits longer than a standard pair of swimmers so that you really get good value for money when you purchase a pair of Funky Trunks. In addition to being chlorine and salt water resistant, C-Infinity Polyester also dries quickly, is a very breathable material and has 50+ UV sun protection. So even though Funky Trunks mightn't cover a lot of skin, what it does cover it can protect. One our favourite things about Funky Trunks is simply that they are fun and noticeably different from more mainstream swimwear brands.
Men's Swimwear
Most of Funky Trunks men's swimwear bottoms are the same cut, they call it the 'Classic Trunks'. Basically it looks like a boyleg cut of men's underwear with wide sides, a stitch front pouch, a wide and comfy elastic around the waist and always lined for comfort and strength. The variability of their trunks is found in the colours, drawings and graphic designs. Funky Trunks is always changing the specific patterns they use but there are always block neon colours, plain black, cartoon pop-art designs, and a range of graphic patterns.
Funky Trunks also has 'Classic Briefs' which have more of a traditional speedo cut, so they are a little skimpier than the classic trunks. There are fewer colours and prints for the classic briefs but Funky Trunks constantly has the classic briefs in plain black as well as a few colourful patterned prints.
Lastly Funky Trunks has longer, tight swimming pants designed for the more serious lap pool swimmer called the 'Training Jammers'. Training jammers are designed to be sleek in the water so you can swim your fastest. They are a snug fit and go down to just above the knee. They are designed specifically for extended use in chlorine water. Generally they are black with a bright design down the pant leg, but keep your eye out for any aesthetic developments on the training jammers.
Funky Trunks has a range of boardies too. Their boardies are shorter than most kinds, usually they come down to mid-thigh. Their fabric is thin and dries quickly and they have a number of practical features. For example there is built in briefs for extra support, deep side pockets, an additional zip-lock coin pocket and a drawstring round the waist.
Funky Trunks For Boys
The boys range of Funky Trunks come in sizes 6-14. The boys' Funky Trunks come in all the same cuts as the men's, that is; classic trunks in crazy prints, classic trunks in plain colours (there are more plain colours in the boys range than the men's range, there are more pastel colours as well as neon colours), classic briefs and training jammers.
Toddlers Funky Trunks Swimwear
Funky Trunks only has one cut for its toddler's line of boys swimmers. They are similar to the men's classic trunks with a wide, boyleg fit and a soft elastic waistband. The toddler trunks also have a drawstring for more adjustability. Some prints in the toddler range are the same as those found in the men's range, but it has its own exclusive prints too.
How To Buy Funky Trunks Online
If you want to try on an actual pair of Funky Trunks you can enter your address into their store locator to find the nearest place they are stocked. However if you want full access to the Funky Trunks range you'll probably be better off purchasing them online.
If you're in Australia and you spend over $90 you'll get free Express Post delivery, and if you spend less than $90 there is a flat fee of $5. Funky Trunks also delivers internationally to destinations like New Zealand, Asia, Europe, USA, Canada and more.
You can return or exchange Funky Trunks swimwear if it isn't up to standard or if you change your mind by returning it to their returns warehouse in Victoria. Funky Trunks pays close attention to their customer care and they are contactable via phone and email.