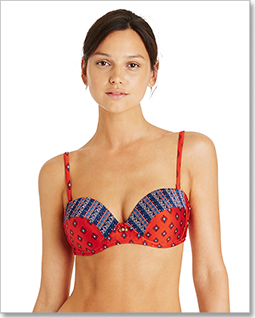 Tigerlily is one of Australia's most prestigious swimwear brands. It is famous for its beautiful patterned prints that evoke bohemian and retro vibes, and for its flattering swimwear cuts. Its designs, fabrics and prints are a throwback homage to the carefree hippy era, but have a distinct modern twist to them. Tigerlily is a fashion brand that isn't just confined to swimwear, it also sells clothes and accessories that follow a style that matches its range of swimsuits perfectly.
Image Link:
Tigerlily Bikinis
Bikinis at Tigerlily are sold separately, you don't have to buy them in a set if you only like the top or bottom. However Tigerlily do make bikini tops and bottoms that match so you can wear them as a totally matching set if you wish. For instance if you like yellow bikini top with the fine Indian sari motifs you will be able to buy bottoms made out the exact same material if you wish. Tigerlily makes the following types of bikini tops; classic triangle, bandeau, 50s style halter, balconette (specifically designed for D/DD Cup), bodice bra, crop top, tankini top, underwire bikini top and cross bandeau. It has bottoms that offer varying amounts of coverage, from skimpier to fuller bottom briefs and they have some high waist bikini bottom designs too. Tigerlily bikini tops range in price from $70 = $120, and their bottoms can cost anywhere from $65 – $100. Tigerlily keeps its swimwear collection quite concise; it only ever has around 25 designs at the one time.
Tigerlily's One Piece Swimsuits
Tigerlily only has a handful of different one pieces in its current collection at a time, but they are always of the highest quality and each has its own distinct style. Usually it has halter one pieces, high neck one pieces, one pieces with removable cups and slimline one pieces with no extra padding. Tigerlily often has excellent backs for their one pieces for instance V-neck backs, lace up backs, racer backs and backs with intricate strapping. Their one pieces are usually around the $200 mark.
Clothing & Accessories At Tigerlily
Tigerlily has a beautiful selection of clothes and accessories that are bohemian inspired, just like their swimwear. Their clothing ranges from relaxed poolside wear to dressier smart-casual attire. They sell short and maxi dresses, tops, jackets, kimonos, kaftans, cardis, parkas, vests, sweaters, playsuits, rompers, jumpsuits, maxi skirts, A-line skirts, sarongs, slouch pants, jeans, formal pants, shorts, and lounge pants. Tigerlily clothing is all in a similar vein, so if you like a couple of pieces it's highly likely you'll love their whole collection.
They also sell shoes, bags, candles, hats, towels, purses, bracelets, makeup cases, wallets, key rings and other cute little accessories. In particular we love their lush cotton beach towels which always have Tigerlily custom designed patterns on them. Their collection print towels never fail to be unique and eye-catching. Their bags and purses have an exotic, holiday look to them and make for exquisite beach bags. We can also highly recommend the Tigerlily candles, with flavours like coconut lemon and lime, ginger and caramel they look and smell divine.
Where Can I Buy Tigerlily In Australia?
Tigerlily is a popular bikini brand in Australia and there are lots of places you can buy Tigerlily products in actual stores. Stores that sell a range of brands, like David Jones and Surf Dive and Ski also sell Tigerlily clothing and swimwear. There are also dedicated Tigerlily stores at many outlet centres around the country. You can use the 'Store Locations' feature on their site for a full list of all the solely Tigerlily stores Australia wide.
How To Buy Tigerlily Goods Online
Tigerlily ships Australia wide for a cost of $9.99 if your purchase is under $150, if it is over this amount shipping is free. If you live in a metropolitan area you can expect your order at your doorstep in less than two business days and if you live in a rural area your order should arrive within two to five working days. At the present time Tigerlily doesn't ship overseas, but this may change in the future.
You may get a refund if your swimmers are faulty or if you simply change your mind within 21 days of making your purchase as long as the swimmers are in their original conditions with the tags still attached. Tigerlily doesn't offer exchanges, so you must reorder yourself if you want something else from their site instead. If you want to contact their customer support services you can shoot them an email at anytime or call their service phone number during business hours.