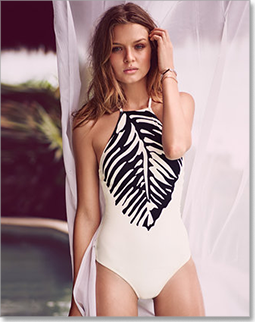 Victoria's Secret is famous for their glamorous bras and exciting lingerie but they also have an excellent swimwear collection. They specialise in women's swimwear and sell swimsuits in all kinds of colours and styles; whether you're looking for a racy number or a glamorous full piece with more coverage, you'll be able to find it at Victoria's Secret. If you are based in Australia you have to buy VS swimsuits online as Victoria's Secret stores in Australia only sell VS' cosmetic products and undies, but they don't sell any bras, lingerie or swimwear. Thankfully Victoria's Secret does deliver to Australia.
Victoria's Secret incorporates bra knowledge in their swimwear
The best part about buying a swimsuit from Victoria's Secret is that it is specifically designed to fit a woman's bust perfectly. Not all their swimwear tops and full pieces have cups, so if you don't want cups you must search for sizes XS – XL.
However Victoria's Secret does have a wide range of bikini and bandeau tops that give you the same support as a bra and are fitted like a bra. If you are shopping online you can narrow down your search to show the swimsuit tops available in your cup size by selecting your size from 32A – 38DD. Any tops listed when you search by cup size will have inbuilt bra-like support in the swimwear. The build of these swimsuits give you excellent lift and support.
VS Bikinis
Victoria's Secret has a very varied selection of bikinis, everything from more pared back classic style bikinis to edgier, more fashion forward designs. At Victoria's Secret you can find the exact bikini ensemble that you're looking for as you never have to buy a bikini top and bottom as a set, you can mix and match them.
If you find a particular style bikini top you like and click on it, there will be a list of suggested bottoms that would look good with that top displayed on the right hand side. There is such a wide selection of bikini tops you can buy that when you're shopping online you have the option of narrowing your search by choosing to only display one or a combination of the following bikini top types;
Push-Ups: push-up tops have built in cups and padding that give your bust a distinct lift
Bandeau: these are wrap around tops that are usually strapless, although they may have detachable straps
Halter: halter tops have straps that tie together behind the neck or a single strap that is attached to both sides of the top and loops behind the neck
Triangle: these are bikini tops with triangle-shaped coverage. You can buy triangle bikinis with or without cups
Bralette: this will narrow your search to bikini tops without cups or any additional padding
Classic: these are bikinis with more classic shapes
Tankini: tankinis have more coverage than bikinis and are typically long enough to meet your swimsuit bottoms even though they are two separate pieces
2 Cups: these are bust-boosting tops that will add two cup sizes to what you really are i.e. if you're an A-cup it'll look like you've got a C Cup bust
Wireless: these styles may have padding but no wires
Removable Padding
Long Line & Crop Top: these are shorter than tankinis but have a thicker strap around the ribcage so they cover more than a bikini
Rashguards: these are rash vest tops that vary in length and thickness
Different styles of swimwear sold at Victoria's Secret
Victoria's Secret swimwear isn't just limited to bikinis, you can also search their collection for one pieces and monokinis. One pieces provide the most coverage but you can still find sexy one pieces for instance they may have low backs or cut-outs. Monokinis show more skin than one pieces. It's difficult to define what exactly a monokini looks like as they can be so varied but in general they have larger cut-out than one pieces or only a few straps of fabric connecting the top and bottom.
In the VS swim section of their site you will also be able to find their range of poolside clothing and beachwear. The clothing displayed in this section of the site doesn't stick to one specific style; there is more relaxed and flowing pieces like long maxi dresses and loose caftans as well as rompers, hoodies and tank tops.
How To Buy The Perfect VS Swimsuit For You Online
The Victoria's Secret site is very user-friendly and you should be able to find what you're looking for quite easily. You can quicken your search by specifying the type of swimsuit you're looking for, and if you're looking for a top it's a good idea to select your size so you're only shown tops that are in stock in your size. If you are buying a swimsuit top with cups it's imperative you know your correct bra size for the top to fit you well. In addition to the type of style you can also filter your search by selecting your colour or print preference.
Once you have narrowed your search you can sort your possible options in terms of the highest rated, the price (you can choose to have them sorted from high to low or low to high), new arrivals first or sales and specials first.
There is an additional shipping cost if you want your goods delivered to Australia, regardless of how much you spend. However the shipping cost is capped so you can buy as much as you want and still only have to pay the same shipping cost. We recommend ordering with a friend to split your delivery cost.